09may(may 9)9:0010(may 10)10:30Barcelona - Surya Kriya & Surya Shakti - May 9 - 10, 2020City:BarcelonaCountry:Spain
Event Details
"With Surya Kriya you will learn a holistic practice to health, wellness and complete inner wellbeing. Practicing the Surya Kriya lets you move towards a space within yourself and around yourself, where outer circumstances are not in any way intrusive or obstructing the process of life."
"When the practice [Surya Kriya] is done, geometrically, in a hundred percent correct manner then we will initiate the Surya Kriya in a certain way and it will become a very powerful process towards physiological and psychological health as well as a tremendous spiritual possibility. It will take a certain amount of time and application and constant correction to come to that state of perfection. Only then, initiating into it will be worthwhile because it is a powerful process. It needs to be done with a certain level of competence. Surya Kriya is different from Surya Namaskar in that the original practice or the real practice is Surya Kriya. It is a way of aligning yourself with the sun and it is a much more refined process which needs enormous attention in terms of the geometry of the body. Surya Namaskar is a country cousin of Surya Kriya. […] If you want a strong spiritual process in the physical process that you are doing, then you do Surya Kriya. ~Sadhguru
?Surya Kriya Intro Video: Link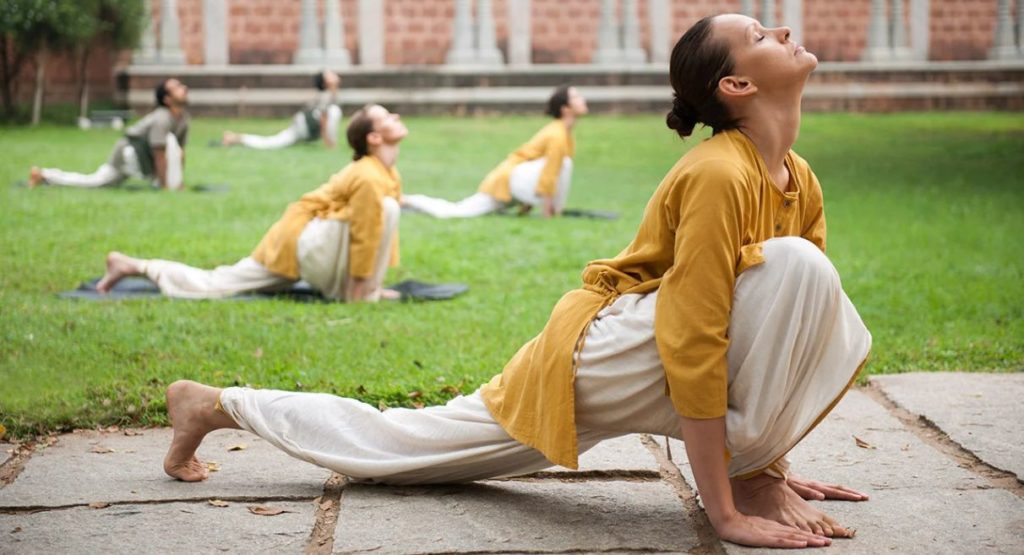 About Surya Shakti ?

"Surya" means "Sun,"and "Shakti" means "energy". SuryaShakti is an dynamic form of the Sun Salutation which is an ancient yogic practice with a powerful sequence of 18 postures.

Surya Shakti builds the physical body – it makes the sinews and ligaments of your body strong. In Yoga, we give importance to the sinews that hold the skeletal system and the whole body together. When we do any yogic practice, which is physical in nature, the focus is mainly to strengthen those, not to pump up your muscles. Strengthening the sinews of the body is what will endure for a long time and keep you well. Surya Shakti does this in a tremendous way.

When we say Surya, we are talking about the Sun which is the basic powerhouse of the planet. Life on the planet is solar powered, including human system. Surya Shakti is a way of using that energy. It does wonders for your health, as well as your physical and mental wellbeing.

Surya Shakti enriches your life in many ways:




1. Brings about physical fitness and overall wellbeing




2. Makes the sinews and ligaments of the body strong




3. Increases mental alertness and focus




4. Creates a basis for one to move into higher states of energy
---
? Join the retreat and receive an extra coupon for Inner Engineering Online (**)
?Main Language: English – Questions possible in German & Spanish
? Take Years Off the Body and Reach the Peak of your Health and Energy
? Enjoy Life With a Sense of Lightness and Freedom Within Yourself
 ? FREE lifetime support via Whatsapp and Email
? Register here: Link
______
?Timing Surya Kriya
Session 1: Saturday, 09.00 – 11.30
Session 2: Saturday, 17.00 – 19.30
Session 3: Sunday, 08.00 – 10.30
?Timing Surya Shakti Session 4: Sunday, 10.30 12.00
➠ It is mandatory to attend sessions 1 – 3 to be able to practice Surya Kriya
?Venue
Atha Yoga-Seminarhaus
Camí Hort del Senyor, 6
43893 Altafulla, Spanien
You can reach the venue through a 1 hour train from Barcelona
? What to do in Altafulla?
Basically: Enjoy! 🙂
Altafulla is a medieval catalan village by the side of sea. Relax at the nearby beaches, bays, take hikes along the coast, get dreamy listening to songbirds in the nature preserve of el Rio de Gaià or enjoy a romantic sunset at the Castillo de Tamarit.
More Info: http://athayoga-altafulla.es/en/altafulla/
? Course Fee (Monday – Friday)
Surya Kriya EUR 179,- (Case of Hardship: EUR 30,- discount)
Surya Shakti EUR 39,-
?Accomodation Fee
? single room: 174,-
? double room: 215,-
More Info on the Accomodation: Link
? Register here: Link
_____
(**) The coupon for "Inner Engineering Online" is a special offering by Sadhguru to all workshop participants of Soul of Yoga
(this coupon will allow to join the Inner Engineering Online program – which normally costs 150$ – on a "pay as you can" basis)
Contact:
The course will be conducted by Hans, an experienced Yoga practitioner, and teacher. Having spent 10 months in the renowned ashram Isha Yoga Center in South India, he explored various aspects of Yoga and underwent an intense Hatha Yoga teacher training (1750h+), under the guidance of the Yogi Sadhguru and the residing monks.
Curious to learn more? Check out their website! ishafoundation.org
ღ Up to 4 weeks prior to workshop -100% refund
ღ 1-4 weeks prior – 70% refund
ღ Less than 7 days – no refund
Note: The course will take place with a minimum number of 5 participants.