17oct(oct 17)9:3018(oct 18)12:30Munich [English] - 3-in-1 - Learn Surya Kriya, Bhakti Sadhana & 360° Post-Program Support - October 17 - 18, 2020City:MunichCountry:Germany
Event Details

Corona News

The situation in Europe is steadily coming back to normal and events can happen again in smaller groups.

We will conduct our seminars with utmost care and strictly follow the governmental guidelines – make sure to take a look at our Hygiene Meassures (Link).

You and those around you shall be save and we will make sure, that you don't need to worry about anything. 

The

class size will be small

and we will have a lot of room for

personal support

.
---
Bring ancient practices into your day, which raise your energy levels, create a profound balance within and let you enter into a life of total ease

Learn Surya Kriya, Bhakti Sadhana & join a 1 hour Masterclass & receive ongoing support to enhance your practice

We have extended the seminar in order to make sure, that you will not only learn a set of life-transforming, but also be able to successfully and effortlessly integrate them into your daily life!

Language: English / German
---
"With Surya Kriya you will learn a holistic practice to health, wellness and complete inner wellbeing. Practicing the Surya Kriya lets you move towards a space within yourself and around yourself, where outer circumstances are not in any way intrusive or obstructing the process of life."
1️⃣ Surya Kriya (

Value:

 EUR 200,-)
"When Surya Kriya is done, geometrically, in a hundred percent correct manner then we will initiate the Surya Kriya in a certain way and it will become a very powerful process towards physiological and psychological health as well as a tremendous spiritual possibility. It will take a certain amount of time and application and constant correction to come to that state of perfection. Only then, initiating into it will be worthwhile because it is a powerful process. It needs to be done with a certain level of competence. Surya Kriya is different from Surya Namaskar in that the original practice or the real practice is Surya Kriya. It is a way of aligning yourself with the sun and it is a much more refined process which needs enormous attention in terms of the geometry of the body. Surya Namaskar is a country cousin of Surya Kriya. […] If you want a strong spiritual process in the physical process that you are doing, then you do Surya Kriya. ~Sadhguru
Read on: http://isha.sadhguru.org/blog/sadhguru/spot/surya-kriya-breaking-the-karmic-cycle
---
2️⃣Bhakti Sadhana (

Value:

 EUR 50,-)
Bhakti Sadhana is a means to bring devotion into your practice and into your life, which will lead to a new depth in your practices. This process is something you can do either as a dedicated practice or let it sink into every aspect of your life.
---
3️⃣ Exclusive Masterclass (

Value:

 EUR 40,-)
1h 15min Masterclass online, one week after our workshop – I will evaluating your progress and be coaching you into the next steps
---
4️⃣ 'Deepening Your Practice' Support (

Value:

 EUR 115,-)
You will receive a series of further tools & information and be able to join our Alumni Mastermind group, as well as
Exclusive Community Gatherings

. This will help you to stay on track, motivated and also deepen your experience of the practices your have learnt.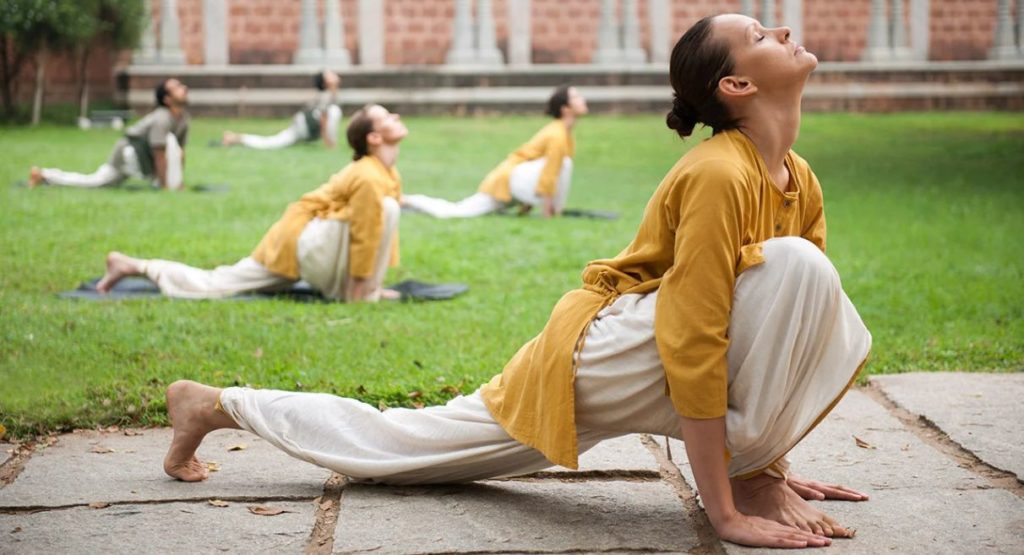 A brief introduction
video
on Surya Kriya:
Link

Timings:
Session 1: Saturday, 09.30 – 12.00
Session 2: Saturday, 17.00 – 20.00
Session 3: Sunday, 09.30 – 12.30
Over the weekend you will be learning the entire Surya Kriya practice, as well as Bhakti Sadhana, in such a way that you will be able to continue doing these practices properly by yourself.

Support:
Ongoing personal Practice Support via Phone and our private Alumni Group on Whatsapp

Total Value: EUR 405,-
Reduced Bundle Price:  EUR 265,-

Venue:

Other:
Language: English
Age: 14 years and above


Contact:
welcome@soulofyoga.de

http://isha.sadhguru.org/blog/sadhguru/spot/surya-kriya-living-without-friction/
The course will be conducted by Hans, an experienced Yoga practitioner, and teacher. Having spent 10 months in the renowned ashram Isha Yoga Center in South India, he explored various aspects of Yoga and underwent an intense Hatha Yoga teacher training (1750h+), under the guidance of the Yogi Sadhguru and the residing monks.
Curious to learn more? Check out their website! ishafoundation.org
Note: The course will take place with a minimum number of 5 participants.